"ISUZU ID" prioritises ESG-focused management in transforming corporate culture
The logistics industry is undergoing a once-in-a-century transformation at a rapid pace, making business operations more and more complex. Isuzu is committed to addressing societal challenges while taking a leading position among commercial vehicle manufacturers. It is vital that each and every Isuzu Group employee share the same values, and work as one team to achieve this. "ISUZU ID", our new corporate philosophy, has been created to guide all Isuzu Group employees towards this end.<Outline of "ISUZU ID">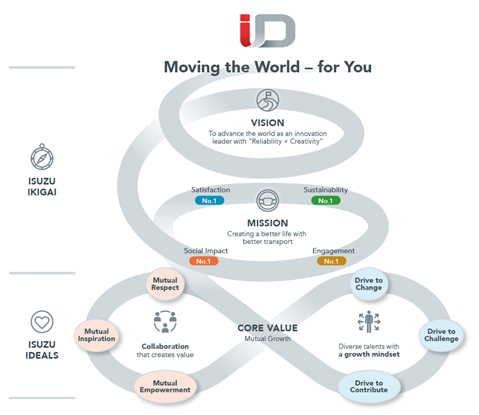 ◆PURPOSE: Moving the World – for You
This statement represents our determination to go beyond our previous corporate philosophy*. It emphasizes transport solutions for all goods and people, creating value that enriches society, while addressing pressing issues such as carbon neutrality and a changing logistics landscape.
◆VISION: Advance the world as an innovation leader with "Reliability x Creativity"
In addressing the many challenges facing society today, Isuzu is committed to leading the way in innovation to bring positive change by combining the power of "Reliability" and "Creativity", attributes that Isuzu has long cherished.
◆MISSION: Creating a better life with better transport
Isuzu aims to be No.1 in the areas of "Satisfaction", "Sustainability", "Engagement" and "Social Impact", to move society forward together with all stakeholders.
◆CORE VALUE: Mutual Growth
Each and every employee is encouraged to embrace challenges and change, with a willingness to contribute. This coupled with respect, trust and empowerment will drive innovation and mutual growth.
<Design>
The ISUZU ID logo represents a ribbon that connects everything from individual values to the overarching PURPOSE. It also unites the group's actions and spirit, flexibly changing its shape to meet various changes and challenges.
"ISUZU ID" promotes the acceleration of efforts towards carbon neutrality and DX (Digital Transformation) for logistics. Isuzu will invest1 trillion yen in innovation by 2030.
1Carbon neutrality – Isuzu will:
・Expand its electric model lineup
・Enhance services that contribute to decarbonization for customers and society
・Accelerate efforts to reduce carbon dioxide emissions and recycle resources at business sites
2DX for logistics – Isuzu will:
・Advance and expand connected services
・Develop technologies for practical use of autonomous vehicles
・Explore new services to develop a new era of transport
Isuzu's investment in innovation will see the company continue to work with alliance partners and customers, in the spirit of collaboration and transparency. More details on decarbonization and digital transformation initiatives will be announced in due course. In line with its PURPOSE, "Moving the World – for You", Isuzu is committed to being a leader in innovation and providing solutions for a better world.
Did you like this post ? Give a rating :